Rén
____________________________
____________________________
Nickname(s):
None as of yet
Name Origin:
Japanese (means ember)
Age:
3 month old pup
Gender:
Male
Breed:
Alexander Archipelago Wolf
Alias?:
He has yet to make a name for himself.
Lineage:
Pennon Of Grant
Appearance:
This wolf pup is only 3 months of age, he has black thick fur and bright yellow shining eyes. He will grow up to look some what similar to Lukio but he will have thicker fluffyer fur. (I might also add yellow markings to his coat not yet decided...) He will also grow up to be slender and have lots of stamina and agility. He won't be very large but he will prove a worthy opponent in battle. He has a slightly visible Lineage on his hip, he isn't going to be the most muscular wolf around when he gets older, however he will be fast and agile. He will also be a master of blending into his surroundings, sneaking up on others, and can disappear without a trace even if someone tried tracking him his scent would not be their as he would get his scent from the surroundings.
Physical Problems?:
Nope
Mental Problems
: Nope none yet anyway x3
Personality:
As a pup he sees Lukio (because he reminds him of his father in looks) and Akeela as "mentors" as he will copy them at times or bug them. He is malicious and sneaky and when he gets into trouble he tries to look adorable in order to minimize his punishment. He seems to be excited all the time and happy, he likes to play around, bug the adults, get in trouble, and play jokes sometimes. His personality will begin to shift as he matures but if he shifts to good or bad or even neutral will be a mystery their will little signs and hints of his behavior changing. He also wishes to join Katurah's Inspect Cabal when he gets older.
Background:
His history is a mystery, when he went off on a journey into the forest he fell and hit his head only remembering his name. He began to wonder in the forest his belly screaming for food, this is where he awaits for someone to find him.
Parents:
He see's his father in flash backs sometimes but he doesn't remember his name.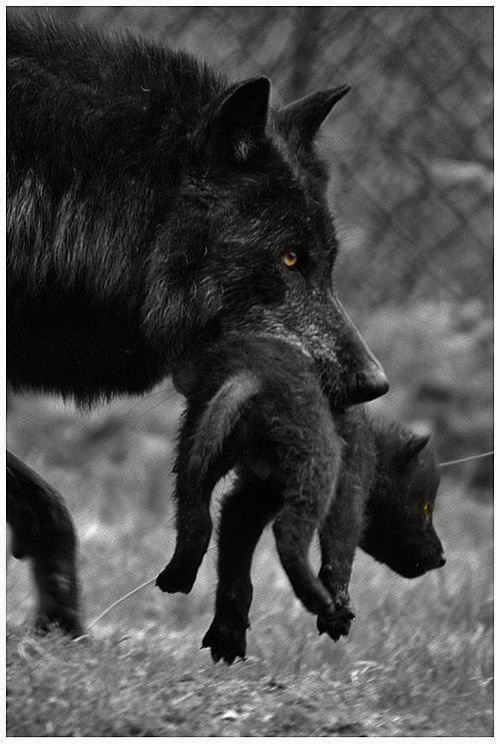 (Ren and his father)
His mother is more of a mystery he doesn't remember her looks or name but he remembers her scent.
Siblings:
Unknown he does think he had at least two siblings.
Pups:
Nope this young'in has no pups it's not possible for him to have any yet.
Other Family of Significance:
(Ask to become his father, mother, sibling, or any other relative)
Mate:
Way to young for that.
weaknesses:
Doesn't know how to hunt, remembering the past, his size, strength, and age.
strengths:
His teeth(not really but yeah lol), small size, and energy.
Habits:
Bugging adults
Likes:


Playing

Play Fighting

Food

A Pack

Bugging Adults

Being adorable

Water

Sneaking around

Dislikes:


Being Hurt

Having No One

Hunger Pains

Fears:


Being alone

Predators

Mean Wolves

Dreams: 


To one day become an awesome Upsilon.

Talents:


(When he gets older) Vanishing in shadows, and sneaking up undetected and on wolves and prey.

Pack Status:Reference?:
Older
Desired Rank: 
Upsilon 
Desired Cabal:
Inspect Cabal
Theme Song:
None yet
Other characters?:
Kasai
Extras?:
Nope