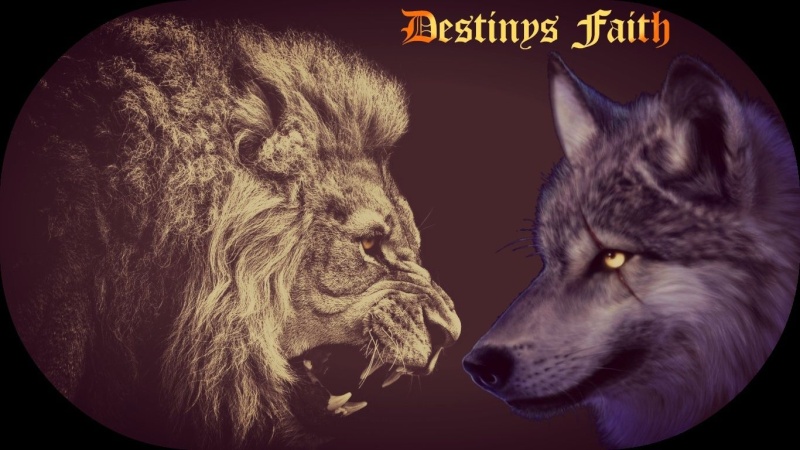 D E S T I N Y ' S F A I T H
Home
|
Advertising
|
Affiliating
|
Joining Us
|
Site Rules
Destiny's Faith is a semi-realistic rpg site, here you have the choice to walk in the paws of a big cat or canined. We allow liquid time just manage it. DF is new in the rp world though has been around for 2 months, we are rated PG-13 but do allow 12 year olds long as you act your age and are mature enough. Join our community today!
The Tribes and Prides
Adkins Tribe

The Adkins Tribe is the oldest tribe in Pangaea. They are wise and kind but they do think they know everything and think they are always right. They are proud and strong and they don't like to be weak. This tribe is known for its bravery and loyalty. These guys live in a valley with a not to far off ridge that leads to the Essence Tribe.
The personality of the Adkins Tribe wolves is wise, kind, proud and strong. They think they know everything and they are always right. They don't like to be weak and they won't show it. They are brave and loyal-- don't be surprised if they do things that other wolves don't do.
Current Leaders:
Katurah ♀
M|4 F|4
Essence Tribe
This Tribe is the youngest tribe in Pangaea. It's still growing and it carries quite an attitude. The Tribe is hidden in a lovely forest that leads out to a Valley filled with Prairie Dogs and not far from there Adkins Tribe is located.
They are selfish and more cruel than the other tribe and are very displeased when they are wrong. The Essence Tribe has trouble trusting wolves that are not in their Tribe which makes things harder for them to gain members. They are often hostile to unknown wolves who trespass onto their territory without making their presence known. They are sly, smart, and fierce.
Current Leaders:
Siphon ♂
M|3 F|4
Silver Gully Pride
The Silver Gully Pride is actually fairly new in the area of Pangaea. Our personality is Fierce with a extreme splash of bravery. We are very careful about what we do and always think things through. They are brave, strong, fierce, and extremely loyal. We help the weak, care for the young, and watch the old so they have a safe end. The pride is known for its Fierceness and Loyalty. These warriors live in the ridges and caves of the valley a few miles from Adkins tribe territory.
The personality of the Silver Gully Pride lions is fierce, loyal, caring, and bravery. They always think before they act and show there lack of experience as a strength, not a weakness. They show the strength through there ceremonies and bravery in there battles to survive. They are brave and caring~~ don't be surprised if they seem fiercer then they actually are.
Current Leader(s):
Karanlik ♂, Malum ♀ and Sky ♀
M|2 F|1
Crater Lake Pride

The Crater Lake Pride is vigilant and swift. They are dark at times and very over protective of their offspring. They dislike intruding males but to accept cubs and other lionesses. They earned their name by a Asteroid that hit earth and made a crater. It soon filled with water creating a glorious clear fresh water lake. Crater lake likes to test other lions to there limits, there battle planning is proficiency. At times they have a taunting bad attitude when it comes to power and are very greedy at times. They are built for fighting and swimming since there lands tend to flood during the wet seasons. This pride's bond with one another is full of affection and is very tight, they may fight with one another but they always stand up for their rights and each other.
Current Leader(s):
Nuka ♂ and Nim ♀
M|3 F|5
Information
➣ 19+ members
➣ Allow liquid time
➣ Friendly staff members
➣ Active community
➣ Fun plot line
➣ Adding things to make up a batter place
➣ Fun role play places
Updates
➣ We are currently switching things around to make our forum more attractive
➣ We are having our first activity check!
➣ Much more things to come!
Contact
You can contact us by our sites email;
destinys.faith.staff@gmail.com
Site newsYear
1
Season
spring
Breeing?
no
Birthing?
yes
Accepting members?
yes
Home