____________________________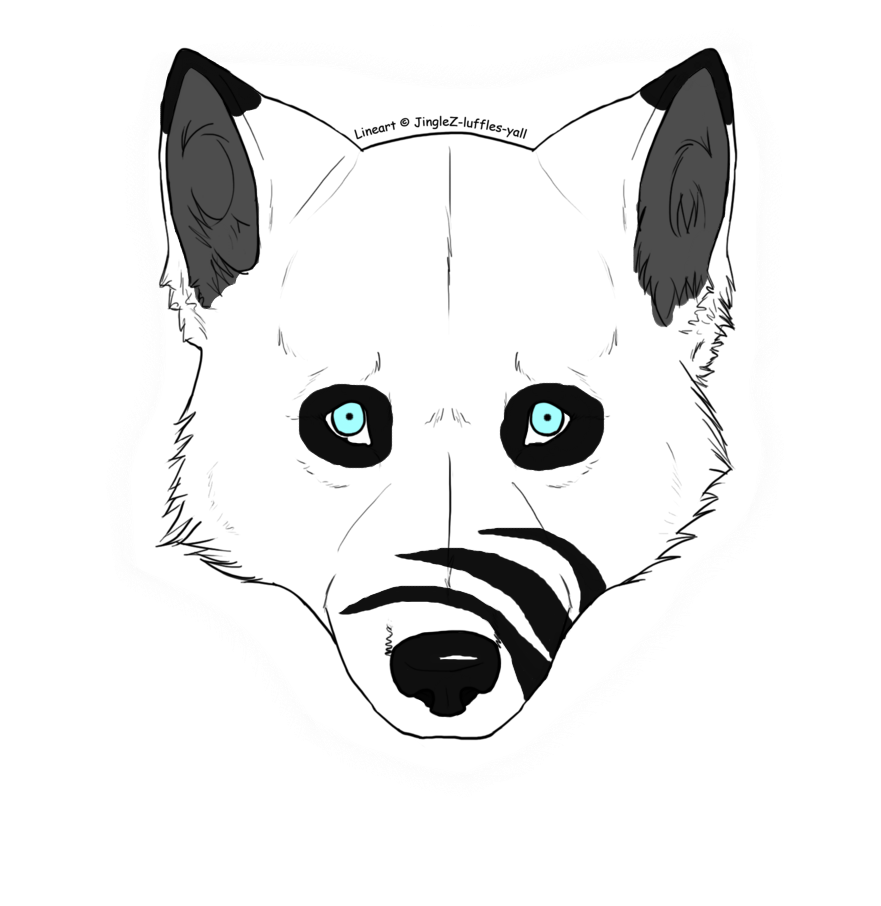 (no earrings in this one Dx)
____________________________
Name:
Kasai (Kuh-sigh)
Nickname(s):
Ka, Ki, Kuh, Si, Sigh, Asai, Doyen
Name Origin:
Japaneses
Age:
Two years and a half
Gender:
Male/Brute
Breed:
Arctic Wolf
Alias?:
Doyen xD he is used to being called that.
Lineage:
Will Of the Alpha, which is on his left hip.
Appearance:
Kasai is a very large brute with thick fluffy white fur. Which is well insulated and protects him from the bitter cold winter, if there are any. He also has dark grey or light black markings, three on his muzzle which look like a slash mark but it is just the color of his fur on his muzzle. The three lines end with a point, curve, and the first is the longest the third being the shortest. He also has light cyan eyes, which at times-especially in the sunlight, look like ice or a very clear or white faded color. Around each eye there are a light er black or dark grey color that circles his eyes. On his left hip there is a black, slightly faded Lineage of "Will Of The Alpha". Inside his ears are a light grey color which almost looks white, while on the outside the tips of his ears are a light black or dark grey. The same color can be found on his tail tip and toes/or/and/paws. (Not decided yet) He also has three cyan earrings on both his ears, all earrings match his eye color.
Physical Problems?:
None, he moves easily.
Mental Problems
: None he is perfectly sane.
Personality:
Kasai is a laid back wolf or somewhat you may call a "cool" wolf. He doesn't really speak much unless he wants to, even with that he is still respected. Kasai is the doyen of the Convoy Cabal, he likes to lead his cabal with respect. He is protective of his pack, friends, and family, as well as his cabal as he considers everyone of them apart of his family and looks to them as his younger or older siblings. In his cabal he likes to train his members with signals since he doesn't really like to talk and if something where to happen they could know what he was talking about. He can sometimes be spotted talking to Leo but never to be heard, it is very rare for him to speak even if he is introducing himself.
Background: 
Soon...
Parents: 
Both Dead...
Siblings: One may be alive...
Pups: None, though he wishes to have some when the time is right.
Other Family of Significance:
Friend(s): He considers each doyen a close friend that he will risk his life to protect. However his best friend is a raven named Leo.
Mate: None yet.
Looking For: A female with unique markings and/or coat with a unique personality, either or. c:

Species: Arctic Wolf
weaknesses: His low agility, his large size makes it easy for a wolf to slide under him, and his protective nature, which makes him sometimes rush in to help without thinking.
strengths: His large size, thick and fully coat, stamina, skill, and strength in battle. As well as his protective nature.
Habits: Rarely Talking/Speaking.
Likes: 
Quiet
Silence
Females
Flirting
Convoy Cabal
Guarding
Fighting
Sparing
Training
Respect
Puting Wolves In their place
Swimming
Relaxing
Fishing
 
Dislikes:
Super Loud Noises
Disrespect
Threats
Annoying Behavior

Fears:
Losing Someone Close To Him.

Dreams:
To one day be a father, be a very respected Doyen, and to be looked up upon by younger wolves, or even be a hero or legend.

Talents:
He can crush bone fairly easy, even buffaloes and large animals are at risk.

Pack Status: Doyen
Reference?:  Soon...


Desired Rank: Doyen
Desired Cabal: Convoy Cabal
Theme Song: Becoming A Legend
Video with song;
&
Creepy video x3
These two also...
Other characters?:
None at the moment but I do rp as Leo(Kasai's Companion).
Extras?:
Click To See Leo: