Deplone
____________________________
____________________________
Nickname(s):
Dep
Name Origin:
I made it up so American
Age:
3 years
Gender:
Male
Breed:
Baffin Island Wolf
Alias?:
"The Wise Deplone"
Lineage:
Light
Appearance:
Deplone is usually always a sturdy looking brute. Meaning you can sometimes see his muscles whenever he walks or runs. In the shade his fur looks light grey although it is really white. His eyes are bright light blue and in the shade they look a bit darker. He has black lined ears and also black lines around the eyes that make a sort of 3. He has a black line going all around his neck area and he has black lines on the bottom of all his paws. The tip of his tail also has a black line like a ring. His fur is smooth and flat, and medium sized, but his tail is a tiny bit thicker. He has his "light" lineage marking on his left leg near his knee.
Physical Problems?:
Nothing at the moment
Mental Problems
: He can sometimes think crazy things that bother him, but he can quickly stop thinking about it.
Personality:
Deplone is wise and strong, he will not let you get in his way if he is trying to stop something and help the peace. Although he can be nice, he likes to be bold and stay positive and sturdy looking in his pack. During wars he will help fight, or he would stay behind to help keep the pack calm and watch it. He also likes to hunt and will usually help pups, although he doesn't really like to train them, but if told will. He follows orders carefully, unless they do not sound wise and will create chaos. He can be helpful when thinking of things since he comes up with plans and stuff quickly.
Background:
He was raised with two other siblings although they all went into different packs and he changed his name from storm to deplone, so if he sees a relative they might call him that..rest is secretive.
Parents:
Thunder and Rain [Elderly in another pack]
Siblings:
Siren and Soran [Other pack]
Pups:
None at the moment
Other Family of Significance:
Not known
Mate:
No one at the moment, it will probably be awhile too.
weaknesses:
Whenever he sees large animals such as moose, buffalo, and seals he sometimes has trouble catching them, and he cannot swim very fast.
strengths:
Although he cannot swim very fast, he can hold his breath for awhile and swim for a long time. He also can carry larger weights but is slower.
Habits:
He tends to have a habit of sitting around watching and doing all types of ranks, such as patrolling, guarding, picking herbs or hunting.
Likes:
He likes to do many ranks and help out other wolves. If they are in need of help and he hears them howling he will tell the others before running to check it out. He will help any ranked wolf even omegas although he likes to keep his respect up in the pack.
Dislikes:
He doesn't be to kind whenever he finds a loner in the territory and if they are not thinking to join then he does not want them there he will signal off warnings and if the loner just doesn't listen there will be a problem.
Fears:
He is not really afraid of anything but bears, although since he is wise he will use skill to figure out his fears weaknesses.
Dreams:
He one day dreams to lead right beside his alpha, helping in any way he can.
Talents:
His known "famous" talent is how long he can hold his breath and how sneaky he is. If he doesn't want to be seen he will not be seen, he is mastered at hiding.
Pack Status:
Living the life of joy. (Pack life)
Reference?: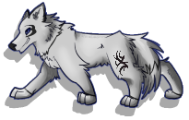 (do not steal e.e)
Desired Rank:
Doyen?
Desired Cabal:
Dogma
Theme Song:
Other characters?:
....
Extras?:
If your like him then you're awesome.